Safee Integration With Wasl
When it comes to the integration with Wasl service of ELM platform and complying with the regulations of the Transport General Authority (TGA), Safee Tracking System is the right answer.
Safee introduces innovative and easy-to-use solutions that guarantee smooth and seamless integration. An integration that boosts operations safety and provides peace of mind for your business to give you the opportunity to skyrocket productivity.
Integration With Wasl Transport Activities
Safee is committed to helping fleets follow the transportation authority rules and all business regulations necessary for each one of Wasl activities related to land transportation. Clients can register their companies, vehicles, and drivers in Wasl service and benefit from the platform's multiple activities such as:
Default Tracking:

For sending location and weight information of moving vehicles and stationary ones for every vehicle registered in Wasl, according to the exact transmission rate determined by Elm/Wasl service.

Saudi Food & Drug Authority (SFDA) For Vehicles:

For refrigerated trucks that transport perishable items like food and medicine. The refrigerator's internal temperature and humidity are transmitted with the vehicle's location to Wasl platform according to the integration requirements.

SFDA Warehouse:

Safee provides a complete warehouse management system to provide all needed features to let the users benefit from both inventory/warehouse management and the integration of Temperature/humidity sensors with Wasl.

Towing Cars Tracking:

It shares some similarities with the default tracking activity, but it is specific for towing trucks and their drivers who should be also registered in the service.

Bus Transportation:

For rental, school, or private buses operating in Saudi Arabia (in and between cities). With a goal to track all bus trips and monitor how many passengers board and exit each bus at each stop station.
Wasl SFDA Activity for Warehouses through integration with wasl
In addition to transport-related activities, Safee introduces Wasl integration related to warehouse monitoring. The system enables companies to register their warehouses/inventories and monitor the temperature and humidity of each warehouse and inventory to be sent to Wasl. Our system provides a dedicated and user-friendly application for warehouse registration and monitoring, and temperature and humidity reporting to Wasl.
Safee Tools To Monitor Connections With Wasl
Our system provides plenty of useful features that empower users to manage and monitor their business integration with Wasl service, such as:
Wasl Explorer. One of the most important features of Safee system. It shows plenty of detailed information related to the latest state of each vehicle in Wasl. Users can monitor the connection in detail and verify Wasl updates of vehicle data as below:
Vehicle Information:

All vehicle information will be shown in Wasl explorer like Wasl plate number, device IMEI, Wasl last state, Wasl last message time, last received event, last weight update, temperature, humidity, last inquiry check time, and validity tracking.

Latest Message:

You can check the latest received message from the device and compare it with the latest message sent to Wasl with accompanying information like speed, weight, temperature, location, sending date and time.

Vehicle Status In WASL:

Where you can check the current status of your vehicle in Wasl. The user does not need to do inquiry about each vehicle to know its status. Rather, Safee platform does this automatically and periodically to give the latest state to its users.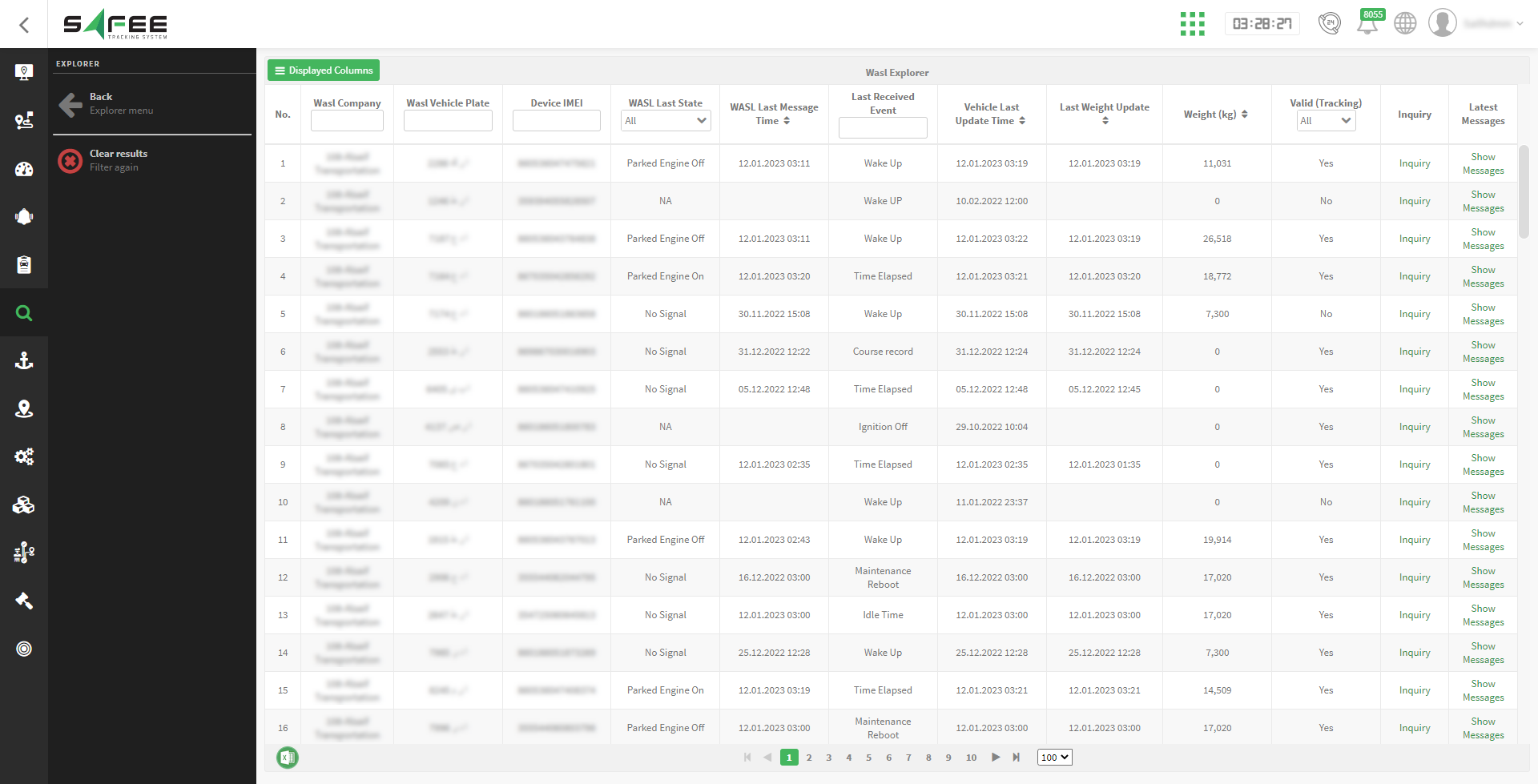 Wasl Messages Report. This report displays all messages sent to Wasl during a specific time, with the ability to determine the transmission status and check on Wasl acknowledgment as proof of delivery.
Wasl Dashboard. A comprehensive dashboard supported by tabular and charted data provides quick and easy access to filtered data to monitor the latest status updates about companies, drivers, and vehicles registered in Wasl. All data are exportable with the ability to export any chart as a detailed table.
Safee Is A Pioneer Platform In This Field
Our system provides users with advanced tools that make their Wasl integration experience even better.
Holding Company:

As a holding company, you can be registered in Safee as one company, with the ability to register multiple sub-companies in Wasl service and link them all to the holding company registered in Safee. Each Wasl-registered company can be managed separately with all the amazing available features.

Weight Correction:

As the vehicle moves and passes through different terrains, the weight may change with that movement. In our system, we adjust the weight received from the vehicle during movement to avoid sending the incorrect weight values and the wrong peaks that might show up. If that weight is out of the acceptable range of the certain thresholds that are specified in the vehicle weight configurations, we will ignore that value and send the calculated/corrected one. Inevitably, during the movement of the vehicle, it does not add/remove loads. Thus. Safee platform relies on the weight value during the rest to correct irregular weight peaks caused by walking on up/down hills or unpaved roads.

Multi-activity Registration:

Safee delivers a unified platform to manage all types of activities and their related data. In one place, customers can register their assets easily to multiple activities (default tracking, SFDA, towing, transportation, … etc).

Message Updates:

What makes Safee special is its ability to analyze and process the huge amount of data that it receives from devices with different messaging rates and transmit them to Wasl in accordance exactly with the rules and requirements defined by the service for each activity, respecting and adapting to the differences between devices messaging rates and the transmission rate to Wasl service. Our system also tells Wasl immediately when a vehicle is involved in an accident, if it stops sending messages to the system, or if the weight sensors malfunction and the vehicles start sending tampered weights.

Re-Sync Feature:

Safee provides the tools to re-sync the company along with its vehicles and drivers to Wasl. This feature is so crucial and it can be used if, for some reason, the company got deleted from Wasl outside our system.

Delegate Registration:

When Wasl/Elm service is not available or out of reach for some reason at the moment when you try to register a vehicle; Safee can handle the registration process in the background on your behalf until it is completed successfully and send you the results via email.

Up-to-Date Integration:

Safee maintains all Wasl integration updates for all activities and implements them immediately once announced by ELM.

Wide Range Of Supported Devices:

We have a variety of options for integrated devices and weight sensors: analog & digital. In addition to our capacity to integrate nearly every new device or sensor introduced into the markets.

Smart Monitoring And Alert System:

Safee has an advanced integrated alerting system that gives us an accurate assessment of the status of the system's connection with Wasl and even the situation of each vehicle separately. When any issue occurs regarding Wasl integration, we inform partners and companies about the whole situation on time.

Client/Company In Multiple Partners:

Our system also gives companies the ability to be registered in Wasl service under multi partners (Tracking Service Providers) at the same time.
Safee Team Is Always With You And Ready To Help
Professional Support Team: A highly Wasl-specialized support team is always available to respond to any question posed by customers via email or on Safee forum. Appropriate training sessions for each activity are also available upon request.
Evidence Is Available on Request: We store logs for all previous communications delivered to and acknowledged by Wasl. This report can be obtained after making an official request in case of a data-related incident.
Arabic : هذا المنشور متوفر أيضاً باللغة